---
Lab amenities
An ensemble of state-of-the-art in-house facilities and professional tech support are available to all lab members, read more below.
---
High Throughput Sequencing
The lab is equipped with two Illumina sequencers (NextSeq 2000 and MiSeq) along with the required QC instrumentation (Qubit and Agilent 2200 TapeStation). Oxford Nanopore Technologies MinIon device is available for applications requiring ultra long reads. The lab has full access to NYULMC HPC facilities and a number of dedicated local linux servers and workstations and ZFS NAS for NGS data analysis. In addition to running a variety of published sequencing protocols, we develop novel NGS methods to address specific research questions at hand.
---
Proteomics
Proteomics instrumentation of our lab includes state-of-the-art Orbitrap Fusion Lumos Tribrid mass spectrometer coupled with Dionex UHPLC chromatography system which are in use for analysis of whole proteomes and protein interactomics. Purification of proteins and their complexes is facilitated by four AKTA FPLC systems. Analysis of protein samples homogeneity by dynamic light scattering is performed using DynaPro NanoStar machine.
NYU Langone Medical Center has a range of cryo–electron microscopes operated by expert staff. So far, one 300kV Thermo Scientific Titan Krios G3i and one 200kV Talos Arctica with Gatan K2 Summit direct detection camera have been installed in Cryo-Electron Microscopy Laboratory. We use these state-of-the-art cryo-electron microscopes to study near-atomic resolution structures of interested biomacromolecules.
---
C. elegans
Lab is fully equipped to work with C. elegans. We have temperature controlled room dedicated for experiments with worms. Our equipment includes four stereo microscopes for routine work, two fluorescent microscopes, Zeiss AXIOzoom.V16 with ApoTome for high quality imaging and Eppendorf FemtoJet 4i micro-injector for generation of transgenic animals.
---
Cell biology and tissue culture
Tissue Culture room facilities with 3 hoods, incubators for large scale cell propagation (adherent and suspension cells); BioRad's TC20 automated cell counter; Lonza's 4D-Nucleofector Core units capable of transfecting many cell lines including adherent neurons; light and fluorescent microscopes.
Biocomp Gradient and Fractionation station equipped with UV detection system and software for UV profiles. FluorchemR System with multi-mode capabilities such as UV fluorescence, white light, chemiluminescence, visible fluorescence, and infrared fluorescence imaging.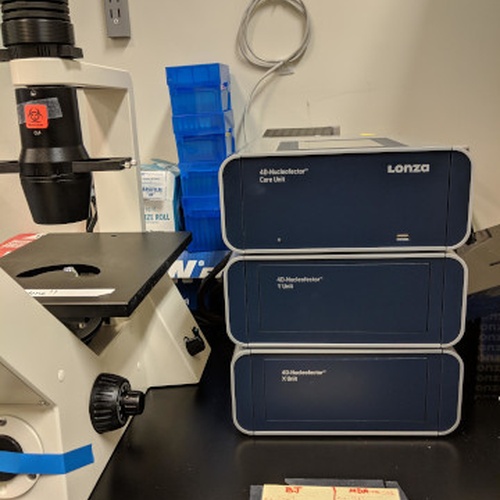 ---
Pathogen room
A dedicated Biosafety level 2+ room supports all lab research involving bacterial pathogens. This pathogen room includes a class II biosafety cabinet, an anaerobic chamber for oxygen-sensitive experiments and our Cytation-3 instrument for high-throughput imaging readouts.